5 bite diet TIPS part 2
Part 1
http://countyourbites.blogspot.com/2015/01/5-bite-diet-tips.html
Part 3
http://countyourbites.blogspot.com/2015/01/5-bite-diet-tips-part-3.html
Part 4
http://countyourbites.blogspot.com/2015/01/5-bite-diet-tips-part-4-how-big-is-bite.html
Part 5
http://countyourbites.blogspot.com/2015/02/5-bite-tips-part-5-cayenne-pepper-to.html
Tip #7
A 1/3 measuring cup can help you measure your 5 bites if you are eating soup, a casserole, or a one dish meal, etc. 5 bites= around 1/3 cup
from google images (webrestrauntstore.com)
Tip #8
A 1 Tablespoon measure. I use this sometimes to measure my bites. Dr. Lewis says 1 snicker bar = 5 bites. 1 snicker bar all chopped up = about 1/3 cup. 1/3 cup= 5 1/3 Tablespoons. Thus 1 bites = around 1 Tablespoon give or take. You do not need to measure out each bite meticulously, but this does help one see exactly how much a bite could be by Dr. Lewis' standard. I do use it to measure bites some right now, but in the past, I have mostly just used a regular spoon while actively losing weight, etc.
Tip #9
Savor your bites! Eating slowly can help you feel satisfied with a smaller amount. Read my blog post here about slow eating. http://countyourbites.blogspot.com/2013/12/eating-slowly-little-secret-with-big.html I use an app that helps me eat slower. (Eat Slower Pro) you can also get Eat Slower app for free. The food Tastes so much better when you 5 bite too!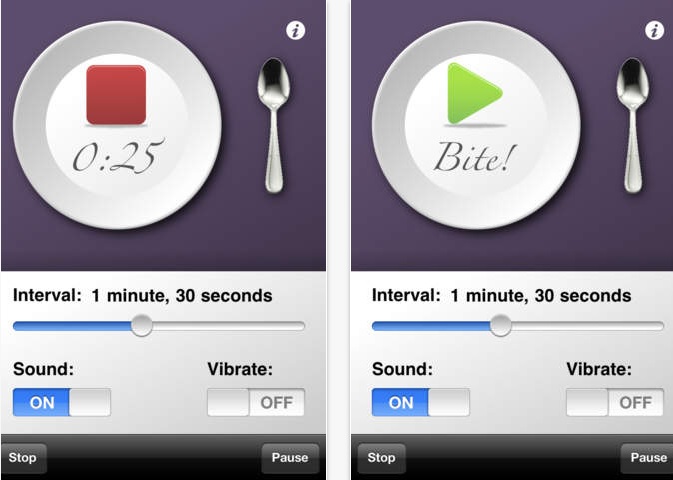 google images (techgyd.com)
Tip #10
Hunger is your friend. Seriously! If you feel really hungry, just know that the lbs are melting off you literally. Learn to embrace hunger and know that it will pass, but the rewards of going to bed hungry, you will reap when you step on the scales the next morning! Hunger is never an emergency! I did experience going to bed hungry sometimes while losing my weight, and I would often see the scales drop! Read my post on Hunger here http://countyourbites.blogspot.com/2013/12/hunger-is-never-emergency.html
Hunger = fat melting!